News Brief

Memories...TrainRiders/NE Chairman Wayne Davis looks back on
the Downeaster's Year-of-Success. Yes, it was a very good year!
Go here.
Summaries of NNEPRA's monthly board meetings
UPDATE: NNEPRA Proposes Summer Weekend Rockland Service from May through October!
Details

Written by TRN Webmaster

TRN Webmaster

Published: 24 October 2017

24 October 2017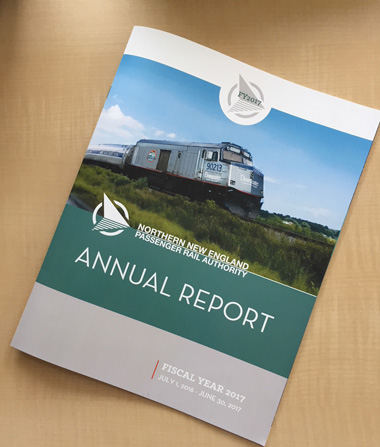 Annual Meetings are always important because the NNEPRA staff summarizes FY2017 Downeaster performance and future goals. The fiscal year ended with 511,422 riders (8% over FY2016), revenue of $8,620,119 (a new record) and passenger miles of 40,742,792 (7% over FY2016)!
One announcement at this year's meeting took many by surprise as proposed Downeaster service to Rockland was unveiled. That means that starting as early as next May, after analysis of the route and public meetings, riders boarding the Downeaster in Boston would be able to add Bath, Wiscasset, Newcastle or Rockland to their weekend tickets. The seasonal service would end in October.
UPDATE: At NNEPRA's November Board Meeting, the board approved the expenditure of funds by Executive Director Patricia Quinn to proceed with route analysis using an Amtrak train/crew as well as utilizing the Geometry Car to determine the quality of the tracks. It is hoped that at the late January board meeting, a decision as to whether to proceed with the proposed service can be made.
There was universal approval of the decision by those present. As one attendee said, "Make it happen!"
We interviewed NNEPRA Chairman John Melrose and TrainRiders/NE Chairman Wayne Davis about the decision.
The Annual Report, which was passed out at the meeting, is filled with interesting statistics and eye-catching graphics. It can be read here.
Interested in commenting? Go to our Facebook page.
NNEPRA September, 2017, Board Meeting
Details

Written by TRN Webmaster

TRN Webmaster

Published: 26 September 2017

26 September 2017
The NNEPRA Board held their regular monthly meeting today with Executive Director Patricia Quinn reporting results for July and August.
The Downeaster had its two highest months of ridership in its 15-year history in July and August
of 2017.

Ridership in July 2017 of 57,652 was **12%** above July 2016 (51,402) and **15%** above NNEPRA's budget target.
Ridership in August 2017 of 57,306 was **7%** above August 2016 (53,627) and **5%** above NNEPRAs budget target.
NNEPRA had their first ever "million dollar month"(s) for revenue in both July ($1,042,712) and August ($1,052,422).
Customer satisfaction remained very high at 90% with the Downeaster conductors scoring five points on average (93%) ahead of their fellow Amtrak peers (88%) for friendliness and helpfulness.
Even more impressive, likely the result of a schedule change allowing for improved fan ridership to the Red Sox on late game nights, the Downeaster cafe car recovered 97%+ of its costs. A phenomenal double-digit improvement over previous performance which had averaged about 80% for many years prior.
The outstanding performance for the first two months of the fiscal year thus far means that the overall cost recovery for the entire Downeaster service year to date is 67%.
The Board was extremely pleased with the results and looking forward to hearing the report for September at its next regular meeting. At the time of the meeting,
September was looking "very strong".
George O'Keefe, TrainRiders/NE Executive Director
NNEPRA Board Meeting in Saco - A Growing Community
Details

Written by TRN Webmaster

TRN Webmaster

Published: 02 August 2017

02 August 2017
The NNEPRA Board of Directors boarded the Downeaster in Portland for the short ride to Saco for their July meeting.
The FY2017 numbers were confirmed: 511,422 riders (9% above forecast) and $8,620,119 in Revenue (7% above target). Executive Director Patricia Quinn noted that June ridership numbers (45,889) were a record for that month. FY2018 started out with a record-breaking July (firm numbers to come). As Ms. Quinn summarized it, ridership has been "phenomenal!"
The Downeaster's Overall Customer Satisfaction numbers exceeded the Amtrak figures by six points in May (90 vs. 84).
The fly in the ointment continues to be On Time Performance with June showing only 70%. Continuing projects on the MBTA line is the main culprit.
Saco City Manager, Kevin Sutherland, briefed the board and public about the city's recent economic growth, which is attributed in large part to the Downeaster service. Following the board meeting, he conducted a tour of Mill Building #4 (opposite the train station) and other areas of the city's growth.
TrainRiders/NE produced a video on the tour with the support of Maine HDTV.
NNEPRA May Board Meeting - FY2017 Continues Growth
Details

Written by TRN Webmaster

TRN Webmaster

Published: 22 May 2017

22 May 2017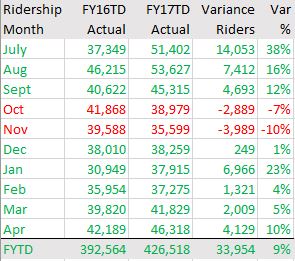 Ridership Report:
Executive Director Patricia Quinn briefed the NNEPRA Board on the Downeaster's Performance.  With one more quarter to go, FY2017 has already eclipsed FY2016 in ridership and revenue. Only two months, October and November, saw a decrease in ridership.
FY2017 is well ahead of FY2016 by 33,954 riders or 9%. 
Revenue:
Revenue in FY2017 to date was $6,425,859 compared to $5,990,533 - an increase of 7%
Brunswick Layover Facility:
From the Performance Report: "During the first full season in the BLF, the Downeaster posted strong ridership gains and our best on-time-performance in five years." Trains did not have to spend the winter months outdoors but were inside the new facility, where 50-degree temperature made ice and snow removal far easier for the appreciative maintenance crews.
Read more: NNEPRA May Board Meeting - FY2017 Continues Growth
NNEPRA February Board Meeting Hears Good News
Details

Written by TRN Webmaster

TRN Webmaster

Published: 27 March 2017

27 March 2017
NNEPRA Executive Director Patricia Quinn was pleased to share the strong ridership and revenue numbers

First, ridership set a new February record of 37,275 which is 1,321 riders above February of last year. Ridership YTD is 27,816 above the similar period of last year.
Second, revenue set a new February record of $675,094 which is $56,280 above February of last year. Revenue YTD is $381,670 above the similar period of last year.
Third, the Joint Government Oversight Committee of the Maine State Legislature voted 7-3 to discontinue any further investigation of NNEPRA. Last year's investigation had given NNEPRA high marks for its management of the Downeaster service. The investigation had been a pet project of former senator Stan Gerzovski of Brunswick. He tried to bind the new incoming committee to conduct another investigation - the committee voted "no."
Fourth, the very popular Dome car will be back this year from mid-August to late September. You can remember last year's success by going here.