News Brief

Memories...TrainRiders/NE Chairman Wayne Davis looks back on
the Downeaster's Year-of-Success. Yes, it was a very good year!
Go here.
NNEPRA Board Meeting - January, 2015
Performance Report: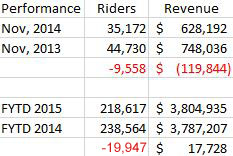 The numbers speak for themselves - a downer for the Downeaster. The Downeaster transported fewer passengers in November of 2014 than in November of 2013.
FYTD 2015 is running behind in ridership when compared to FYTD 2014, but revenue is up slightly (Wayne Davis told the board that on one recent weekend evening, there were 45 passengers waiting to get on the southbound train in Brunswick!).
On Time Performance in November was a dismal 15.80% and Overall Customer Satisfaction was 79%, while Amtrak's Overall Customer Satisfaction Index was 82% - it was the first time that the Amtrak number exceeded the Downeaster in recent memory.
The Reason:
As explained at the board meeting, during the first five months of FY2015, 135 trains were cancelled due to necessary track work (mostly tie replacement). If you can't run certain trains, you can't carry passengers, slow orders cause a slide in the CSI and OTP is hit hard. NNEPRA is working with PanAm to streamline the tie replacement program scheduled for the spring - there are still 22,000 ties waiting to replace older ones.


Brunswick Layover Facility
Executive Director Patricia Quinn announced that the DEP's Public Hearing on the NNEPRA requested Storm Water Runoff Permit will occur on March 25th in Brunswick - exact location and time TBA. (See more on this process in our previous posting.)
Maine Eastern Schedule for Summer of 2015
ME management has decided to back off their connection with the Downeaster in Brunwick to Rockland. They are returning to an excursion train schedule. The connecting service allowed for no time in Rockland and had to immediately turn around and head back to Brunwick in order to make the southbound Downeaster.
Addition to NNEPRA's Conflict of Interest Ethics Policy
At the last NNEPRA Board Meeting, TrainRiders/NE and All Aboard Brunswick members accused board member Robert McEvoy of a conflict of interest when he sent a letter to the DEP listing what he saw as omissions in NNEPRA's BLF permit application - without telling the board of his actions.
Today, Chairman Marty Eisenstein introduced an addition to the board's ethics policy which stated in part:
No NNEPRA board member shall, without Board legal authorization, disclose Confidential Information regarding matters involving NNEPRA...No NNEPRA Board member may use Confidential Information to advance his or her own financial or private interest or the financial or private interest of others."
The second line in the above addition to the Board's Ethics Policy was specifically what our Counselor, Bruce Sleeper, raised in November when he charged that when Mr. McEvoy expressed public concerns about his home losing value, that amounted to a conflict of interest based on state ethics regulations.
Chairman Marty Eisenstein emphasize that a conflict of interest "..didn't happen, but we want to be sure it won't happen again." It is interesting, however, that after TRN and All Aboard Brunswick raised the issue, the new language was created. The board, including Mr. McEvoy, approved the language unanimously.