News Brief
NNEPRA reports May ridership missed FY2017 target by 5%, due to loss of approximately 2,500 riders because of weekend curtailments and heat restrictions. May ridership was only 261 passengers below May of last year. FY2017 YTD ridership is 9% ahead of target. When the June numbers come in, FY2017 promises to be a very successful year.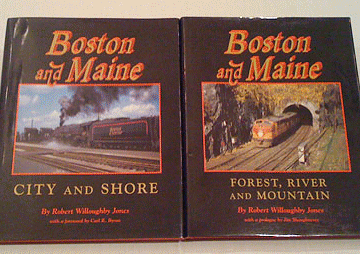 TrainRiders/Northeast is now making available to its members and friends two historic Boston & Maine Railroad books: City & Shore and Forest, River & Mountain by Robert Willoughby Jones. These books have retailed in the past for more than $100 each.
Each book is priced at $30 and both books are priced at $50 (for TrainRiders/NE members only). Maine residents need to add sales tax of 5% to the value of the book purchase. Shipping is a flat $7.50.
The Boston & Maine was New England's premiere railroad and these books literally preserve our railroading past.
If you wish to order by mail, send your request to: TrainRiders/Northeast, P.O. Box 4869, Portland Me. 04112. You can also contact us by phone: (207) 879-7245 or send us an This email address is being protected from spambots. You need JavaScript enabled to view it..
Or, use your credit card through PayPal for a secure and quicker response. There are two columns, the one on the left is for TrainRiders/NE members and the one on the right is for non-members. It pays to belong!
TRN Member Column

xxxxxxxxxxxxxxx

x
Non-Member Column

xxxxxx
XXXX