Our New Vision
TrainRiders Northeast brought the Downeaster to Portland, ME in 2001 and Brunswick ME in 2012. Our New Vision: An across the platform, Amtrak connection at Boston's North Station, serving Worcester, Springfield, Hartford, New Haven & New York's Penn Station. Our continued success depends on your donation. Use our PayPal button to help us reach this goal. Many thanks for your continued support. Wayne Davis, Chairman
August, 2016 NNEPRA Board Meeting
Details

Created: 22 August 2016

22 August 2016
Preliminary Report FY2016: The numbers showed continued recovery of the Downeaster service from the botched tie-job of FY 2015 and part of FY2016.
Ridership: Projected ridership was down by 2% and revenue by 3%. However, this June's ridership numbers showed an increase of 23,109 to a total of 42,605 over the paltry 19,496 of the previous June.
On Time Performance: I'll pick last year's worst OTP month - May of 2015 was 0% This May it was 81% - not the 90ish NNEPRA is aiming for, but a spectacular return to normalcy.
Overall Customer Satisfaction - June, 2016: The Downeaster continued to eclipse Amtrak service elsewhere with a 92% rating as opposed to Amtrak's 86%.
FY2017 Begins: July, the first month of of the new fiscal year, set a new ridership record of 51,402 passengers and that's an increase of 14,053 riders over July of FY2016.
Fall Tie Replacement: There remains considerable track work to be done this Fall. From October 1st to November 21st, some 15,000 ties will be replaced between Portland and Wells. This will necessitate no Downeaster service between Brunswick and Wells. Special bus service will bring southbound passengers from Brunswick, Freeport, Portland and Saco down to Wells. Similar service will transport northbound passengers after they reach Wells on the Downeaster. Another painful reminder that maintaining the tracks keeps railroad service up to expectations.
State Finds No Major Issues After NNEPRA Review
Details

Created: 21 July 2016

21 July 2016
Maine's Government Oversight Committee (GOC) met today in Augusta and heard Beth Ashcroft, director of the Office of Program Evaluation and Government Accountability (OPEGA), present a 7-page report detailing her agency's preliminary investigation of NNEPRA. This investigation was initiated at the request of Sen. Stan Gerzofsky (D. Brunswick), who, among other things, opposed NNEPRA's choice for the site of the soon-to-be-completed layover facility in Brunswick and who accused that Authority of mismanagement and a lack of transparency.
After extensive research into the operations and governance of the rail authority, Ms. Ashcroft stated that OPEGA found no significant issues with NNEPRA. More specifically, the report stated that:
OPEGA does not find that mismanagement or lack of transparency are "areas of high risk at this time."
OPEGA has not "identified any potential concerns or high risk conditions that lead us to definitely recommend further review" of any NNEPRA functions which are "key to providing the most effective and efficient passenger rail service possible."
OPEGA noted that NNEPRA "appears to have strong practices in some areas, like procurement and contracting, which are already reviewed to some degree through . . . federal reviews and independent financial audits." OPEGA's conclusion that "there may be limited value to spending OPEGA resources on more detailed review of NNEPRA at this time" is a strong endorsement of NNEPRA's practices and activities, validating the value of that agency to the State of Maine and the rest of northern New England.
OPEGA's 7-page report will be followed by a more detailed Information Brief in September, after which the GOC will consider whether any follow up is needed. A copy of the report is available at http://legislature.maine.gov/uploads/originals/final-nnepra-project-direction-recommendation-statement-.pdf.
Busy NNEPRA Board Meeting Hears 3rd Qtr Results While Addressing Track Safety Conditions
Details

Created: 05 May 2014

05 May 2014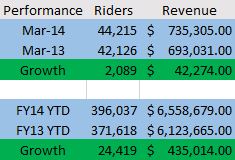 Performance Report:
Ms. Patricia Quinn, NNEPRA Executive Director, presented Downeaster performance statistics for the third quarter of FY2014 - they were all on the plus side (graphic to come). Ridership was up as compared to FY2013 as was revenue. Six percent growth is to be celebrated in this current sluggish economy.
On Time Performance rose to 81.3%, which is an improvement of previous reporting periods.
Read more: Busy NNEPRA Board Meeting Hears 3rd Qtr Results While Addressing Track Safety Conditions
Press Herald discovers West Brunswick Engineer has financial conflict of interest
Details

Created: 18 April 2014

18 April 2014
How do your define 'conflict of interest?' The Portland Press Herald reports that the West Brunswick engineer who determined that the proposed Downeaster Layover Facility would exceed federal noise regulations, quietly filed plans to build a 9-home subdivision next to the land. That's a clear financial 'conflict of interest.' Or, to put it another way, "Not in my backyard unless it's my subdivision." Read the Press Herald's reporting.
Brunswick Layover Facility: Gov. Says, "Thorough review needed" - TRN says "Current Environmental Assessment more than sufficient"
Details

Created: 25 March 2014

25 March 2014
From Wayne Davis, TrainRiders/Northeast Chairman:
A letter from Governor Paul LePage to the Federal Railroad Administration (FRA) became public this week requesting a "significant and thorough review" of the planned train Layover Facility that would be constructed in the existing property zoned 'rail yard' in West Brunswick.
Read more: Brunswick Layover Facility: Gov. Says, "Thorough review needed" - TRN says "Current Environmental...